Going to a tailor for one or the other fixes often is not something anyone of us likes. So why not own a sewing machine and easily fix all your cloth stitching worries at home. That sounds like a good idea now.
Sewing and stitching have always been an integrated part of our life either by need, choice, passion, or profession. With the speed when everything is changing drastically, sewing and stitching clothes are still the constants. Either it is a simple fix stitching or sewing a full garment, a sewing machine is substantial assistance to us. Early there used to be those typical black USHA (mostly) machines that were present everywhere either a tailoring shop or our homes. But with evolving time our sewing machines to have changed or you can say upgraded a lot.
Today if you ever visit the market or search online about the best sewing machine in India for home use you would get a 100 of models available there. With upgraded features, compact size, bright color and automatic controls, a sewing machine has gone very much advanced. You would also encounter manual, electric, automatic as well as computerized sewing machine which will surely bring a lot of confusions. So today for clearing all this confusion we have bought you a list of 7 best sewing machines in India. Apart from that, we have also prepared a sewing machine- buying guide to get you the maximum information about this product.
So, without any further time, wasting let us get started.
Best Sewing Machines in India 2020
Singer Start 1306 Sewing Machine
The Singer Start 1306 is an amazingly built sewing machine that offers you a lot of useful features. This model can also get stated as the best sewing machine for beginners. It comes with six stylish in-built stitches like a straight, zig-zag, blind hem, satin, 4 step buttonhole and scallop used for basic stitching, decoration and creating buttonholes. With the pre-printed threading diagrams on the right side of the machine, you can set it up within minimal time and efforts.
It has a dual spool pin for twin needle sewing that are perfect for hemming or giving your cloth piece a decorative touch. Stitching cuff, collars, pant hems and other typical areas of cloth becomes very easy with the convertible free arm with this singer sewing machine. It comes with preset stitch length and width that makes sewing an easy task for beginners.
The three pressure feet includes an all-purpose foot, a zipper foot and a buttonhole foot. Its heavy-duty metal frame of this sewing machine ensures long-lasting durability and skip-free sewing throughout.
This wonderful machine holds the capability to perform 750 stitches per minute.
Usha Janome Dream Stitch Zig-Zag Sewing Machine
Usha is a well-known brand for sewing machines in India. The Usha Janome Dream stitch sewing machine is perfect for beginners and experts both. This lightweight machine comes with a handle so that you can easily move it around the space as per your comfort. Its 4-step buttonholing feature let you quickly make buttonholes on coats, dresses, shirts and any other garment.
It comes with seven in-built stitch patterns and 14 applications along with a revolving dial for easy pattern selection. With the sewing speed of 550 SPM, this machine assists you in your quick stitching schedule. It also allows you to adjust the length and width of the stitches.
As it is a free arm model, you can easily stitch quilts, blanket covers, bedsheets and other big and typical cloth items conveniently. It comes with a sewing light that gives you clear visibility even while you stitch in a little dark space.
Lastly, it is so convenient and compact that you can fit it also inside your cupboard.
Usha Janome Wonder Stitch Zig-Zag Sewing Machine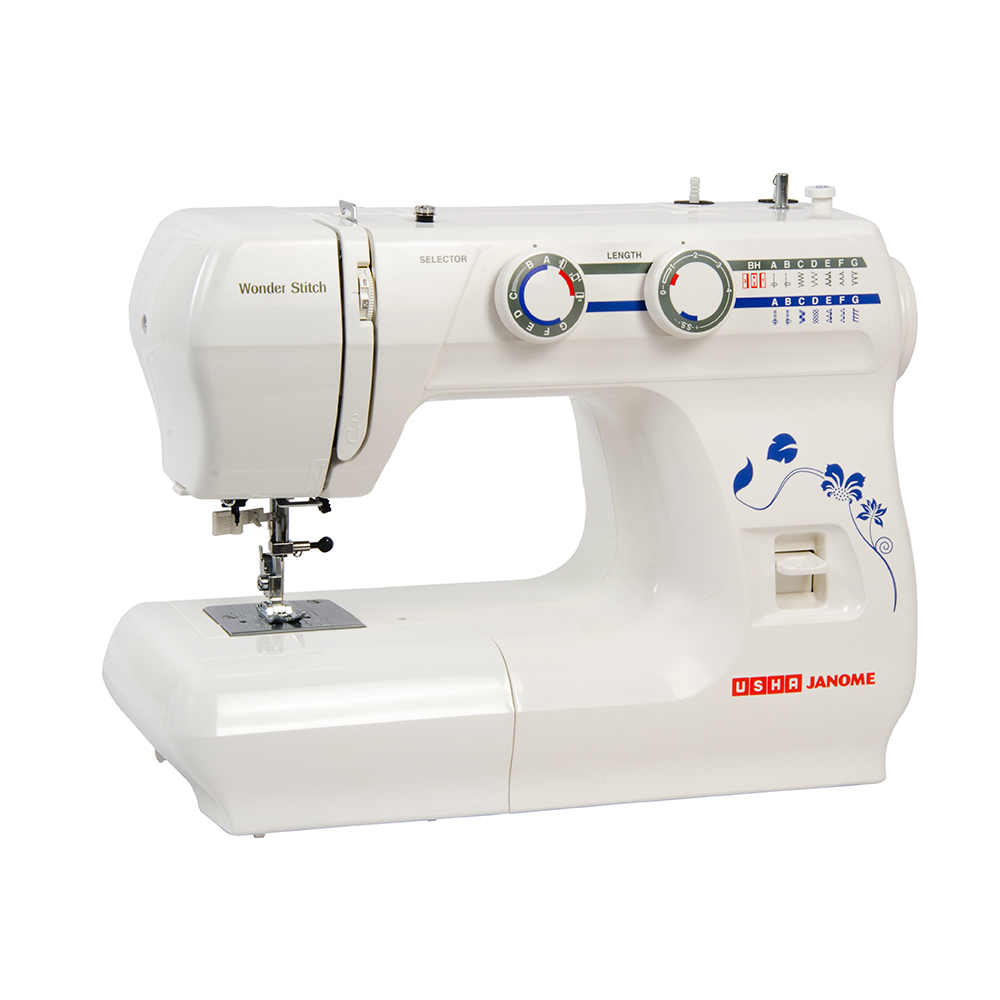 The Usha Janome wonder stitch sewing machine is expensive, but a fantastic model for beginners and professionals both. This outstanding model comes 13 in-built stitches and 21 applications such as button fixing and holing, rolled and blind stitch hemming, zip fixing and more. It comes with a carrying handle and is quite light-weighted to get carried easily around the house.
This Usha zig-zag sewing machine gives you brilliant stitch quality with adjustment of length and breadth of your preference. It has an incredible speed of 860 SPM, which makes your entire work get done in a very little time. It offers you with some unique features like automatic needle threading to auto-thread the sewing needle and triple strength stitch to lock the stitches three times stronger in regular.
The sewing light helps to operate this machine even in little darker areas. Its bling hem foot lets you finish the garment ends like skirt hemlines, saree falls, and Kurtis slits. Usha provides an instruction manual with this appliance for the ease of beginners.
Qualimate Electrical Portable Sewing Machine for Home
The Qualimate electrical sewing machine is a multi-functional appliance that assists you in all your sewing and stitching work. It has ten different stitch patterns like zip sewing, button holing, button attaching, blind hem, straight, zig-zag and more. You can sew a variety of fabric with appropriate tension with the adjustable thread tension knob. The double-needle sewing is ideally for decoration which let you sew with different colours.
Using the button foot pressure, you can choose different stitch length and attach button of various sizes. For sewing dark clothes with ease, this machine provides a built-in LED light just above the needle placement. You can easily cut the thread with the equipped cutter once when you finish sewing.
The free arm operations assist you for easy access to cuff, collars, and other typical areas to reach. It also allows you for doing easy forward and reverses sewing.
Lastly, it has an automatic winding feature that stops once the bobbin is full of thread.
Singer Simple 3223 Automatic Sewing Machine
The Singer simple 3223 sewing machine comes in two colours, pink and green. It gets featured with 23 built-in stitches for regular stitching, zig-zag stitching, decorative stitching and more. The four-step buttonhole lets you sew a button on your shirts, blazers, and Kurtis with four simple steps. You can customize the stitch length depending on the type of your fabric.
Its features a free arm that helps you in easy sewing of the cuff, collars, hem trousers and other small projects as well. While binding the bobbin, the needle bar automatically disengages, making the binding safe. The reverse lever lets you sew stitches in the backward direction which is beneficial for securing seam at beginning and end.
Some of its additional features include extra high-pressure foot lifter, snap-on pressure feet, free arm and darning plate. This Singer sewing machine keeps the seams strong and prevents bunching on all fabric types. Its heavy-duty metal frame provides good support and long-lasting durability to the machine.
FAB Innovations Sewing Machine
The FAB innovations are the best sewing machine model for beginners and everyday users. It comes in a mini portable size making it easy to place in cupboards or even shelf space. It offers you with 12 stitch patterns that you can easily choose and change from the front display of the machine. The reverse switch button does an auto thread rewind which proves to be helpful for DIY sewing projects.
The FAB sewing machine comes with a built-in easy to carry handle that makes it easy for you to take it anywhere in the house. Additionally, the plastic body makes it even lighter than other models on the list. The adjustable stitch length and zig-zag width allow you to customize stitch sized as per your requirements. The best part about this FAB sewing machine is its low noise operations.
With this sewing machine, you can do embroidery, designing, and patterns on various type of fabrics. The High and low-speed switch lets you choose foot paddle or hand switch easily from the front of the machine. You can even overlock and secure the side-line of your stitched clothes with the overlock feature.
Brother GS 3700 Sewing Machine
The last but convenient Sewing machine on our list is the Brother GS 3700. It has 37 stitch patterns and 71 stitch function that is enough to do a variety of customized designs, embroidery and stitching. You get an LED light placed just above the needle for giving you a clearer view even in a little shade or while stitching dark colour clothes.
This sewing machine from Brother is fully customizable that allows you to customize speed, stitch length, stress on the thread and single/double needle operations. It has a one-step buttonhole and a picot foot that lets you work fine even with light-weighted fabrics like chiffon.
You get a knob to adjust the stitches and sewing speed. Made up with good quality plastic this white coloured sewing machine looks premium and is also very sturdy to use. This product also includes an instructional DVD that helps beginners for a better hold on a machine.
Best Sewing Machine Brands in India
USHA: USHA, no doubt, is one of the best and oldest sewing machine manufacturers in India. It has won the trust of many Indian with its performance and durability. This well-known brand has provided the widest yet innovative and straightforward models in its sewing machine's range. From affordable to expensive, you can find several options with USHA. Currently, Janome allure, Janome wonder, Janome dream stitch, Janome automatic zig-zag, are the leading models from USHA that you can entirely rely on.
SINGER- The Singer corporations is an American brand very well known for making world-class sewing machines. With a diversity of automatic, electric, computerized, mechanical, serger and many more you can choose anyone from this brand. In terms of performance and durability "SINGER" stands as a strong competitor with USHA. With an affordable price, necessary and useful features, innovative Japanese technology, every machine from Singer is worth picking.
Brother: Brother is a Japanese manufacturer for a sewing machine. From sewing, embroidery, multi-needle, serge and even in combos it offers you a lot of variants of machines in quite an affordable price. In the case of performance and durability, you can completely trust this brand.
Few other manufacturers like Qualimate and FAB innovations too have sewing machines matching the latest trend and market competition.
Sewing Machines- Types
You definitely would have come along various sewing machine models, but many between us are still unknown about the types of Sewing machines. Here we have bought you a piece of detailed information about the kind of sewing machine with their particular purpose.
Mechanical or manual sewing machine – These are the Vintage machine we all are surely familiar. Manual machines are most suitable for beginners and get used through a big wheel or foot pedal. Though they have almost no advanced features, in-built stitch patterns, or customizing options, they are still more durable and long-lasting than any other machine type.
Manual machines are very affordable and easily available in even your local market. It can repair very easily at a very minimal cost. The only issue with this machine type is that you have to thread the needle often manually and the sewing requires quite a power of your hand.
Electric sewing machine– These are few steps upgraded than the manual ones. The electronic sewing machine is lightweight, compact and easy to use. It works through a motor that power-ups the device. It has a variety of features including built-in stitches, thread cutter, reverse stitching, hemming, quilting, smocking, blind stitching, zip fixing and buttonholing. These machines function through buttons and dials and are best for beginners, tailors or even professionals like fashion designers. Depending on the range of features you can find these machines from 3000-13000 INR.
Computerized sewing machine– These are the most advanced a high-end sewing machine. With no wonder the computerized sewing machines can also get connected with internet, computer and smartphone (in few models). They are not suited for beginners because of their high price range. You can find them between the price range of 22,000 to 80,000 INR. These sewing machines are best suited for industrial purpose or professionals who deal with regular manufacturing. It has an LCD, LED touch screen with a memory backup feature. They can be programmed and connected to computers for transferring customized embroidery designs. Though with many advanced features many technical errors may occur with these machines.
Overlock sewing machine – Overlock sewing machines are most suitable for industrial use or professionals. Also known as sergers, these machines get used for seaming and overlocking the cloth. The garment industry uses this machine for edging the fabric or cutting the uneven edges. It has fewer function than the electric and computerized ones but is faster than them too. It uses 4-5 threads and even more needles for creating an overcast stitching effect. These machines help stitch structure like hoops, curtains, dresses, bedsheets etc.
Sewing Machine – Features
Sewing machines have got a lot of feature and more are getting added from time to time. It is better to choose the model with useful features for you rather than choosing the one with a lot of features. The most important and valuable features are as follow:
In-built stitch patterns – Today sewing machine comes with at least six and up to 50 or more in-built stitch patterns. But here more the merrier terms true for only professionals. People who are buying a sewing machine for personal use should not get attracted to what looks good but should choose what's useful for them. For home use 7-8 in-built stitch patterns are enough.
Free arm- Free arm allows gives the user more space under the needle. This area extension lets the user use fabric more efficiently and can reach areas like collar, cuff and pant hems easily. One must ensure the model they pick should have this feature.
Power switch – This feature gets used to switching on/off your machine and proofs to be a safety feature for preventing mishappenings.
Automatic needle threader- Most of the electrical and other high-end machines have this feature. It automatically hoops the thread into the needle using a hook and prevents strain on the user's eyes.
Automatic thread cutter- The automatic thread cutter cuts the thread at the end of operations. It happens with just a push of a button.
Needle up/down– It allows you to change the position of needle right/left as per requirement. It is also useful to stop the needle while turning fabric.
Speed control- It lets you control the speed of sewing fast or slow. This feature is useful while using various types of fabric together.
SPM -SPM "stitch per minute" is the speed of the machine for the highest number of stitches it can perform in a minute. More the stitches faster, you can perform your task.
Automatic button holder – This feature creates perfect buttonholes with just a touch of a button or dial control. It proves very useful and saves you from making manual buttonholes.
Adjustable foot presser – This feature is beneficial for attaching zipper and cords. It prevents the fabric from stretching while giving it a tight hold.
LED lightning -This feature is mainly present in electric and computerized sewing machines. It lets you see clearly while dark sewing clothes or while in the shade.
Things to keep in mind before buying a Sewing Machine
Sewing skills and requirements: It is unnecessary to invest in a model that might have a wide number of features but aren't helpful for you. If you are an occasional sewer, it is better to invest in a manual or electronic sewing machine. Similarly, if you are planning to use the machine professionally and would require more advanced features, it is better to invest one that supports your requirements best.
Machine's weight: A lightweight machine made with plastic is suitable for ones who are looking for portability and would move it often from place to place. The ones made with plastic sometimes create vibration while sewing. Whereas, a heavy metal duty frame will give you durability and won't get affected with sewing or any other force. It would be challenging to move a metal body machine frequently.
Warranty: Always check for the warranty coverage from the brand. Many of the sewing machines have 1 to 2 years of warranty.
Repairing and after-sales service: While choosing a brand for your sewing machine, ensure that it offers an excellent after-sales service in your area. Also, look after its repairing cost and parts replacement cost if in case required in future.
Buying sewing machine Online – Is it safe?
Online shopping is a well-known trend, but still many of us doubt about buying electronics and machines online. But it is safe to buy a sewing machine online. The advantages of buying a sewing machine online:
You get amazing discounts and offers if you buy a sewing machine online.
You get a clear description of the product in every way like build-up, features, warranty, and working.
You can read 1000s of reviews from trusted buyer's online.
You get a variety of options from different brands to choose from.
All these advantages you get online might missed in case you go for offline shopping.
Frequently asked questions
Which is the best sewing machine for professional use?
The Singer Heavy Duty 4432 Sewing Machine is the best pick for professional usages.
Which is the best sewing machine for home use/ beginners?
The Singer start 1306 sewing machine and The USHA Janome Wonder stich Zig-zag sewing machine is the best pick for home use and beginners.
Which brand can be stated as best for sewing machines?
The following brand is the best and most trusted for sewing machines in India:
USHA
Singer
Qualimate Electrical
Brother
Are computerized sewing machines suitable for personal use?
The computerized sewing machine is more suitable for professionals and industrial usage. For beginners investing in such an expensive machine is not at all a good idea.
How much electricity does an electric and computerized sewing machine consume?
Most of the sewing machine that runs on motor consume 50-70 watts of electricity. However, industrial sewing machine consumes a lot of electricity.
Are mini sewing machines durable?
A good brand mini sewing machine will perform better in performance and durability. Though buying a local mini machine might lack in durability factor.
Can mini sewing machines use for stitching proper dresses and other clothes?
Yes, mini sewing machines are good enough in performance and durability. These are portable and versatile sufficient to sew clothes like dresses, Kurtis, and shirts.
Advantages of a sewing machine
Stitching in straight line is a lot easier than manual process.
It let you make zig-zag stitch which is difficult doing by hands.
The sewing machine does faster stitching than hands.
It lets your stitch garments as per your fitting.
You can upcycle old clothes into new or make bags out of them through the sewing machine.
It let you live your stitching hobby and passion.
One can use a sewing machine for starting a profession and tailoring.
It can help you do embroidery and create buttonholes.
Conclusion
To end it here, we believe you can find the best sewing machine for home after going through our seven best sewing machine list. You can rely on our top picks as we have prepared the list after deep study of the appliance and going through a lot of genuine customer reviews. Make sure to go through the buying guide to get a better understanding of this appliance.
We have tried to cover all the points related to a sewing machine in this article and hope you will find it helpful. For any queries, questions and feedback, please leave your comment down below.